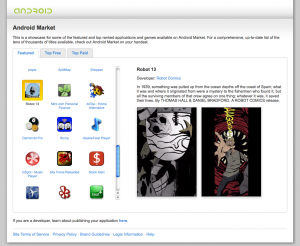 An app released by Robot Comics, the comics branch of Robot Media, has become the first comic app featured in the Android Market.
The app features Robot 13, a comic by Thomas Hall & Daniel Bradford, and combines transition effects with vibration to create an unique reading experience.
After being featured Robot 13 was downloaded by more than 50,000 additional Android users in just a few days. These are some of their comments:
"Absolutely brilliant. Fantastic illustration and the way it moves from page to page is brilliant. Never seen anything like it before!" -Laura
"This is so cool. It's the perfect balance between interactive and traditional comic book. It's a lot of fun to read." -Aaron
"Very cool I don't really like comics but this is something I could get addicted to" -john
"Excellent way of writing a story. Love the extras like vibrations and zoom. Awesome. Purely Awesome." -Cesar
Curious? Download Robot 13 #1, available for free both for Android and iPhone.