Android developers often get bug reports from their users that lack context. With so many Android devices and versions out there, it is vital to properly identify the device that had the problem. This brief tutorial will teach you how to send an useful bug report to an Android developer using Bug Reporter.
1) Download Bug Reporter from the Android Market if you do not have it already. If you do not have the Android Market you can also download Bug Reporter from AndAppStore.

2) Open Bug Reporter and enter a brief description of the problem.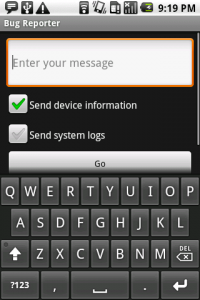 3) Check Send system log if the developer requested it or if you want to send a crash report. If you send the system log make sure to open Bug Reporter immediately after you closed the target application or it force closed. Bear in mind that the system log may have personal information.
4) Press Go and select the delivery method. We will assume that you selected an email client.
5) Enter the developer email, or your email if you want to edit the message from your computer before sending it. You might also want to edit the subject.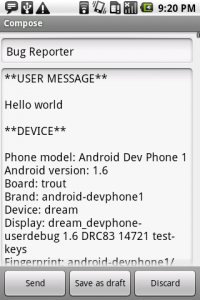 6) Press Send. Now the developer will receive an useful bug report that properly identifies your device model and Android version, and optionally includes the system log.