Warning
: Illegal string offset 'href' in
/home/robotmedia/robotmedia.net/wp/wp-content/plugins/wp-android-shortcode/wp-android-shortcode.php
on line
30
Warning
: Illegal string offset 'title' in
/home/robotmedia/robotmedia.net/wp/wp-content/plugins/wp-android-shortcode/wp-android-shortcode.php
on line
34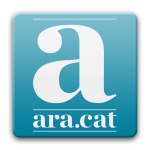 Newspaper ARA worked with Robot Media to develop the Android app of the ara.cat website. ARA.CAT for Android includes all the news, videos and photo-galleries from the site optimized for viewing on mobiles devices.
Headlines are presented in a customizable front page which also includes local weather updates. Articles are categorized and can also be ordered by editorial, popularity and date.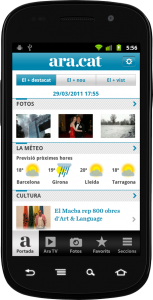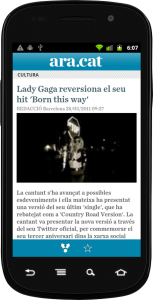 Readers can mark articles as favorites as well as sharing them through their social networks. Favorites are also available for offline reading.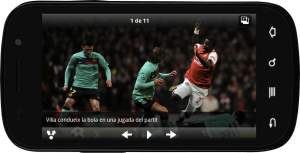 ARA.CAT for Android is now available for free in the Android Market. An iPhone version is also available.