Mobile apps that want to publish Facebook stories on behalf of an user need to be registered on Facebook first. Here's how.
Step 1: Where?
Log in to Facebook and go to facebook.com/developers. Click on + Set Up New App.
Tip: The Facebook account that you use will not be visibile to your app users unless you want to. Avoid personal accounts as the app developer might need to have access to this account.

Step 2: Essential information

Fill out the app name and read and accept the Facebook terms. The app name will be visible to Facebook users.
Tip: You might need to validate your account or pass a security check before or after this step.
Step 3: Mobile and Devices
After filling out the essential information you will be redirected to the About form. All the fields on this form are optional and can be provided later.
Click on the Mobile and Devices tab. Change Application Type to Native app and click on Save Changes.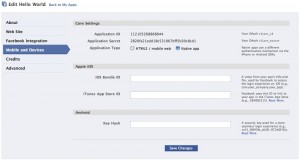 Step 4: ID, key and secret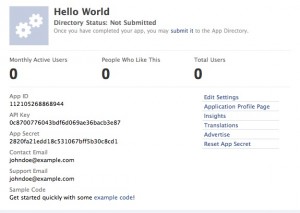 The application detail page will be shown. Copy the App ID, API key and App Secret and send this information to your app developer.
Tip: Directory Status: Not Submitted is ok. Mobile apps registered on Facebook don't need to be submitted.