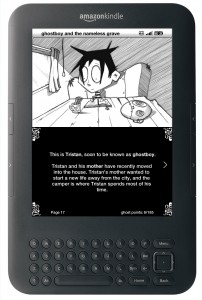 Ghostboy and the Nameless Grave is the first interactive children's book for Amazon Kindle, an original title produced by digital picture book publisher Robot Media.
Kindle parents can now share the joy of reading eBooks with their children. Ghostboy and the Nameless Grave is an original eBook in which children become part of an interactive adventure, a brand new experience available exclusively for Amazon Kindle.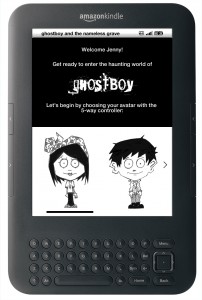 The story follows Tristan -the titular Ghostboy-, a quiet boy who is constantly being haunted by his cemetery neighbors. Ghostboy and the Nameless Grave narrates Tristan's first encounter with a ghost, a lost little girl. Children enter their name, choose an avatar and help Tristan to solve the mystery of the little ghost girl.
The eBook is illustrated by English author Jason James and published by Barcelona-based Robot Media, who previously won the Publishing Innovation Award at Digital Book World 2011 in New York. Robot Media has worked closely with the author to create an experience that makes use of the full potential of the Amazon Kindle.
"We set out to create a story tailored to the strengths of the Kindle. Ghostboy's Gothic settings are rendered beautifully on the Kindle's monochrome screen, and the design evokes the feel of the silent films of old," says Robot Media's founder Hermes Pique.
Ghostboy and the Nameless Grave is aimed at children who are learning to read and write. It provides reading comprehension and writing puzzles, and offers children the choice to explore a town full of mysteries during the eve of Halloween. Curious readers will be rewarded with a secret epilogue that hints at the next adventure.
The book was developed using Kindle's Active Content technology which is currently only available to USA Kindle users. Ghostboy and the Nameless Grave is expected to become available worldwide as Active Content is released internationally.
Ghostboy and the Nameless Grave is now available at Amazon.com for an introductory price of $2.99. Learn more at ghostboykindle.com.
About Robot Media
Robot Media aims to change the way children's books are authored and consumed.
Based in Barcelona, Robot Media works with renowned authors and publishers worldwide to bring content to new platforms, such as Amazon Kindle, iPad, iPhone and Android. They have produced hundreds of titles which have attracted millions of downloads, including The Adventures of Simon Pegg with Random House, Scott Pilgrim with HarperCollins and the Introducing series with Icon Books.
Robot Media won Seedcamp, Europe's premier startup accelerator, in 2010, and recently received the Publishing Innovation Award at Digital Book World 2011 in New York. Ghostboy and the Nameless Grave is their first release for Amazon Kindle.
About Jason James
Jason James is an English illustrator based in Nottingham, the home of the legendary Robin Hood, and now Ghostboy.
Jason has worked for Cartoon Network, Turner Class Movies and Freakish Kid. He recently opened his own studio scarycaravan media which specializes in concept design and illustration.