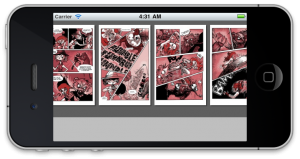 RMImageScroller is an open-source image scroller by Robot Media for iOS 3.2 or later. We designed it to show the thumbnails of a sequential image viewer , both on iPhone and iPad and all screen orientations.

Features:
Images are displayed in an horizontal scrollView.
Only visible images are loaded in memory.
Optional page numbers (or titles) and slider.
Padding, separator size and image size can be configured.
Spread mode for e-book viewers.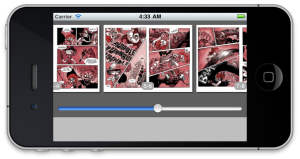 The source code is available on github licensed under the LGPL. We invite you to fork it and use it your iOS app. If you do, please let us know how we can improve it.
RMImageScroller is our second open-source contribution. More will follow shortly.
Thumbnails from the most excellent comic Bear Beater Bunyan by Josh Hechinger & Jorge F. Muñoz.