To celebrate its 50,000th download, the fan-favorite English Idioms Illustrated app by Professor Potts and Robot Media was recently updated for iPhone and iPad.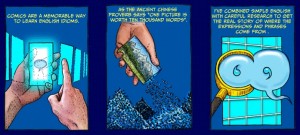 The update includes a brand new strip by the Professor explaining his process (previewed above), as well as various usability and performance improvements both for the iPad and the iPhone version.

Jump on the English idioms bandwagon! English Idioms Illustrated is now available in the iTunes App Store, and will be soon released for Android. Join the official English Idioms Illustrated Facebook page to stay updated.