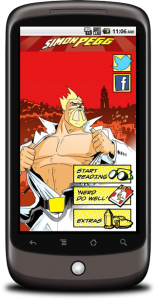 The Adventures of Simon Pegg is currently being featured in the Android Market. The app is the comic book tie-in of actor Simon Pegg's auto-biography, Nerd Do Well. While the Android version is only available in the UK, the iPhone/iPad is available worldwide.
This marks the third time that an Android app developed by Robot Media is featured by Google on the Android Market.
The Adventures of Simon Pegg was produced by Cornerstore Publishing, an imprint of Random House UK. Learn more about the app on its official website.