If you want to add some modifications or custom content to your Sims 3 game, then you're in luck. In this article, we'll show you step by step how to install sims 3 mods. Adding these mods changes the game and how it is played.
Also, you can add new elements making the game much more interesting and fun! Before starting you must ensure that all the games and apps are closed. Installing modifications or custom content won't work when open.
Steps To Install Sims 3 Mods
Step 1: On Windows, click on Windows Explorer. On Mac, go to the Finder.
Step 2: Navigate your way to the Sims 3 documents folder. This is where you are able to configure your content within the game by adding any type of mods or coding.
Step 3: On the left-hand toolbar, select Documents. Then open the Electronic Arts folder and lastly you should see the Sims 3 folder.
Step 4: Next you should install the Framework Setup File. This file is needed to install sims 3 mods.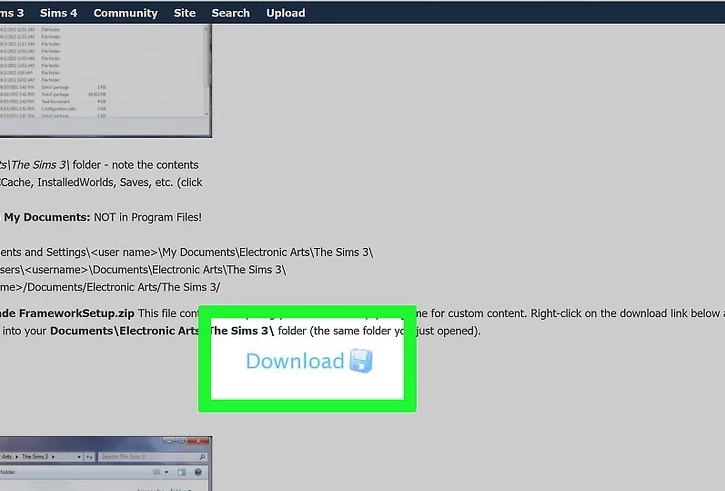 Step 5: Next go to the bottom of the page and select download to install the zip file. 
Step 6: Extract the content from the FrameworkSetup.zip.file into your Sims 3 documents folder 
First, ensure that you have the necessary program for extraction. Programs such as Winzip, WinRAR or other free 7-zip extractor programs will work. 
Next right click on the zip file and select Extract file. When asked where you want to extract the content, select the location: Documents -> Electronic Arts -> The Sims 3. 
Now that you have the framework to install mods, you can make the necessary modifications to your game. 
Step 7: Download a sims 3 mods
There are many websites that do have Sims 3 mods so it entirely depends on what type of mods you'd like to have on your game. When downloading a mod, please ensure the following: 
Make sure it is compatible with the latest version of Sims 3 
Ensure that the mod is suited for Sims 3 and not any other version is Sims 2 or Sims 4. 
If you're new to modifications, you may want to check out Modthesims.info as a resource to browse through all the available mods they have. Refine the search as needed and when you have found one, simply click download.
Step 8: Extract the zip file. Just like the framework set up, you'll have to extract the mods zip file into your Sim 3 Documents folder. 
In this example, you'll right-click on the nointro.zip file once it's installed. Then find the .package file or files and select extract. When they ask where you want to extract the files to, select: Documents -> Electronic Arts -> The Sims 3 -> Mods -> Packages. 
Warning: Make sure to only install one mod at a time to make sure it is functioning properly. Check to see that the game runs smoothly so that it doesn't affect the core functionalities of the game. If you install multiple mods at one time, you won't be able to distinguish which mod is corrupting the Sims 3 game. If it's one at a time, you can just easily remove the mod and resolve the issue. 
You'll know if the mod is not working when you see bugs that occur or the game may not load at all. Start your game, test out the mod features and also test out all the functionalities of the game.
If you become a mods addict, then you'll definitely want to organize your mods in the packages folder. Organize by folders that categorize what each mod does. For example, if you have several mods that change the soundtrack, create a folder labeled "music." 
To create a folder go to Packages. Then right-click on a blank space and click New. Then tap Folder and name your folder. 
That's it - now you have the instructions to easily install any mod out there. We hope you enjoy your new content in your Sims 3!