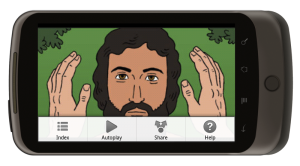 The best-selling iPhone adaptation of the Bible for children arrives to Android. Produced by BCNmultimedia and developed by Robot Media, Children's Bible for Android presents the holy text as an interactive comic book that can be read frame by frame.
The adaptation is composed of 8 apps, all available in 7 languages. A chapter of the Old Testament is offered for free, and the rest of the chapters are priced between 1.99€ and 4.99€ depending on their length.
Children's Bible is now available worldwide and for all Android devices. Download it from here or visit the official website to learn more.